The risk of compromise in the integrated circuit (IC) manufacturing process is very real and is possibly the least understood cyberthreat. In light of this threat the Department of Defense (DoD) actively manages IC supply chains, plans for potential threats posed by outsourcing practices, formally assesses system's vulnerabilities and employs trusted suppliers when contracting the design and manufacturing of national security-critical components. This program, referred to as the "The Trusted Foundry Program" was established in 2003 as a joint effort between the DoD and NSA.
Read on below and learn about this important program and the accompanying accreditation that defines the confidentiality and security of mission critical ICs.
What is DMEA Trusted?

Defense Microelectronics Activity (DMEA) has oversight of the DoD Trusted Foundry program. The program provides the means to assure the integrity and confidentiality of integrated circuits during design and manufacturing while providing the U.S. Government with access to cutting edge microelectronics technologies for both trusted and non-sensitive applications.
Being DMEA Trusted instills confidence in a supplier's ability to keep national security sensitive supply chain systems secure. Trust is achieved by assessing a supplier's integrity (personnel) and the process they use to design, generate, manufacture and distribute national security critical components (ex: microelectronics).

DMEA trusted suppliers are charged with important responsibilities, including:
Provide an assured "Chain of Custody" for both classified and unclassified ICs.
Ensure that there will not be any reasonable threats related to disruption in supply.
Prevent intentional or unintentional modification or tampering of the ICs.
Protect the ICs from unauthorized attempts at reverse engineering, exposure of functionality or evaluation of their possible vulnerabilities
DMEA Customer Solutions Explained
DMEA vets and accredits suppliers seeking certification in the areas of integrated circuit design, aggregation, broker, mask manufacturing, foundry, post processing, packaging/assembly and test services. These services cover a wide range of IC technologies and is intended to support both new and legacy applications, both classified and unclassified. When the DMEA receives a request for support, the DMEA first attempts to identify any existing inventory or an acceptable substitute for the application. If the DMEA identifies a source, it provides the customer's request to an accredited commercial supplier like Criteria Labs.
DMEA Solutions Flow Chart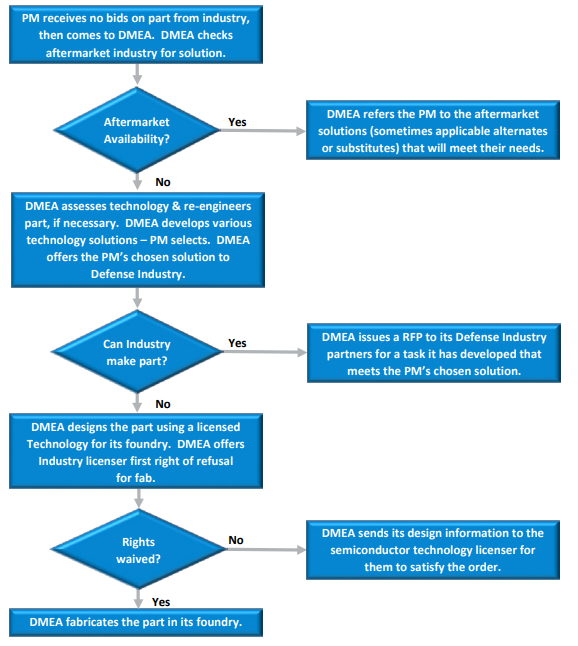 Criteria Labs Solutions
A DMEA Trusted source, Criteria Labs has a deep understanding of supply chain risks. Criteria Labs has the capability to provide unique and exclusive opportunities to the Department of Defense and its supporting subcontractors with consistent, reliable and secure solutions, free from counterfeit or manipulated electronic parts. Criteria Labs has the in-house capability to handle SCD creation, die procurement, package design, package assembly, screening, QCI, data pack creation and tape and reel packaging all to high-reliability standards.
*Sources:
Defense Microelectronics Activity (dmea.osd.mil)
Office of the Inspector General, Department of Defense (media.defense.gov)
---
Want to stay up-to-date on the latest content and news from Criteria Labs?