The most common means to handle, package, and transport high-reliability surface mounted electronic devices is the tape and reel process. In the following blog we'll outline our best recommendations for planning your tape and reel packaging projects. Additionally, we will share tips for qualifying tape and reel packaging vendors.
What is Tape and Reel Packaging?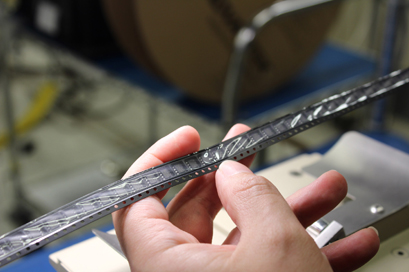 Tape and Reel packaging is the process of inserting electronic devices into individual pockets of carrier tape. Pressure cover tape is then applied or heated for a thorough seal. The carrier tape is then wound into an industry-standard reel for seamless loading onto component-placement equipment.
Tape and Reel Packaging Tips from Criteria Labs.
Before you consider tape and reel packaging your electrical components, please consider a few recommendations from the team at Criteria Labs:
Plan for Lead Time– Plan for 3 to 4 days for standard tape and reel packaging project completion. Although, some vendors do provide expedited turn time options for same day and next day service. Criteria Labs does provide expedited service.
Remember Electrostatic Discharge– When vetting a tape and reel packaging vendor ensure they take the necessary precautions when handling components. Criteria Labs strictly adheres to ANSI/ESD S20.20 standards.
Ensure Quality Standards– Make sure your tape and reel packaging vendor can generate a controlled process document. Additionally, that they can guarantee consistent process flows and verification that all machine setups are checked and double checked.
Consider Vendor Experience– Ensure your components are being processed by a company that has experience in tape and reel. There are many areas of the tape and reel process that most vendors just don't want to be involved with. When you have an experienced tape and reel vendor you will be able to give most if not all of the responsibility to your vendor, thus giving you more time to concentrate on your core business.
Choosing Automated or Manual Packaging–

Automated Benefits-
Reliable for high volumes
Lower Cost
Flexible
Manual Benefits-
Efficient for low volumes
Consistent
Faster Turnaround
Depending on the demands or financial needs of your company, you may choose manual packaging over automated packaging solutions to save costs. Keep in mind that decisions based in cost savings could ultimately result in higher costs when complexity, speed, yield, or quality is at stake.
Tape and Reel Packaging Final Thoughts.
Before deciding on a tape and reel packaging vendor you should have strong confidence in the vendors ability to process and package your components. After conducting the necessary vendor qualifications and with the above tips in mind, you'll be ready to make a sound vendor decision.
Criteria Labs Tape and Reel Packaging Solutions.
Criteria Labs is the largest domestic tape and reel provider in the United States with extensive capabilities to address every tape and reel need. Our experienced team has over twenty years of tape and reel experience and has packaged parts for space, military, automotive, medical and commercial customers. We guarantee that all tape and reel packaging orders will be completed to exact customer specifications and delivered in a timely manner. Our production facility in Penrose, Colorado has the capacity to process millions of parts per month. We can process the smallest of orders to the largest. Infrequent orders to daily deliveries.
---
Want to stay up-to-date on the latest news from Criteria Labs?